Shaking-it Up | 3 New Know-it Features You Need To Hear About!
Here at Team Know-it we're always striving to make Know-it the best platform it can possibly be!
Over the past few months we've been hard at work developing new features and completely overhauling our pricing structure, making Know-it even more accessible to businesses just like yours.
I'm Clara, Customer Success Manager here at Know-it.
Keep reading to see a breakdown of our top 3 new features. If you'd like to learn more or book a full demo of the platform schedule a call with me here!
1. Invite additional users FREE!
We've now added the functionality for you to invite additional users at no extra cost!
When you add new users they can be allocated to a specific company/ledger or access all ledgers if multi-ledgers are in use.
2. Automatically see the credit rating of all companies in your ledger
How well do you know your customers? It is absolutely critical to "know" your customers before, during and after doing business with them.
Now, as soon as you connect your ledger, you'll see the current credit rating of all your customers via our trusted data provider Creditsafe from the "My Companies" page:

3. Dashboard Drilldowns
We've now made it easier to make sense of the data on your Know-it dashboard with the "More Info" button.
You'll now have an instant view of all values including Payments Received, Reminders Sent and Company Credit Report Monitoring Changes with just one click!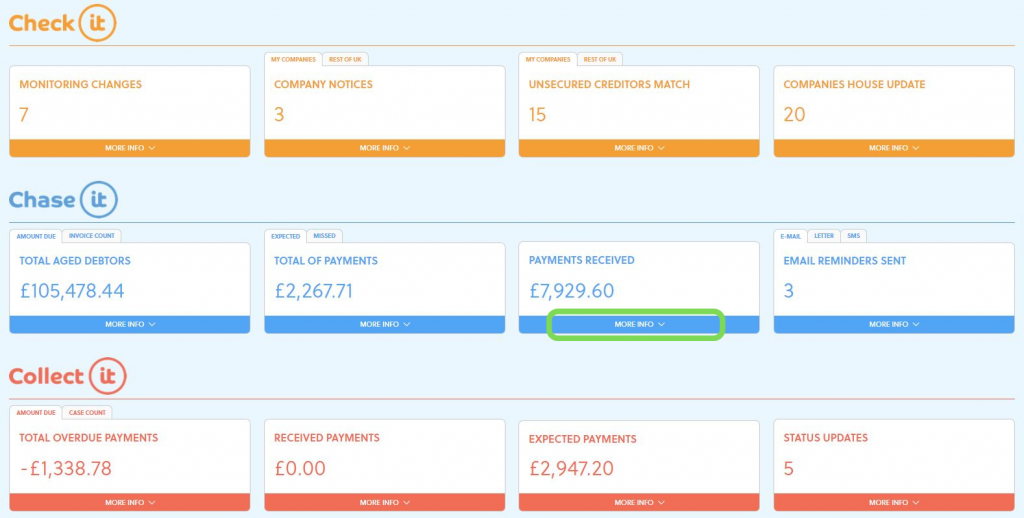 New Pricing Updates
Our biggest change to date is our new approach to pricing.
Know-it is now more accessible than ever as we're giving FREE access to our users – NO CATCH!
When new users sign-up they'll get full access to Know-it FREE for 30 days. Once those 30 days pass, users will move to our freemium model, where they'll get:
Unlimited users
Credit status of companies
Updates from Companies House
Notices from The Gazette
One company ledger connection
Real-time ledger updates
Chase-it templates
Chase-it scheduling
Office 365 integration
Unlimited Chase-it emails
Quick Quotes for debt recovery
View quotes in-platform
View Collect-it case status and see live case updates
Quote for single invoice credit insurance

Add-ons can then be purchased in the Know-it Marketplace including:
Credit reports
Credit monitoring
Data insights
Chase-it SMS
Chase-it letters
To give our power users even more value we've also created the Know-it-all package!
This gives you everything included in the Freemium package as well as:
The Know-it-all package costs just £169.99 per month and includes over £210 worth of features every month!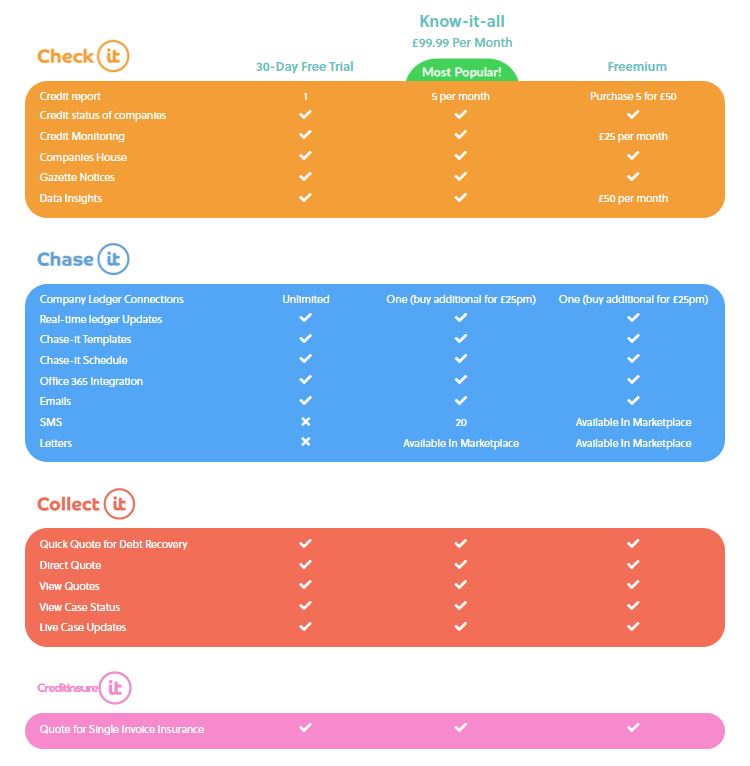 Not quite ready to sign up? Why not book a full demo and let me show you how Know-it can help transform your business? schedule a call with me here!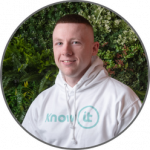 Declan is our content writer here at Know-it!
He is committed to educating readers on the importance of credit control and how technology can help streamline processes for SMEs whilst providing actionable help on how businesses can mitigate credit risk, reduce debtor days and boost their cashflow.
Connect with me on LinkedIn!