Get Your Free Company Credit Report!

Get to know how you look to your suppliers!
Credit check and monitor your
company credit report with real-time
credit & company data!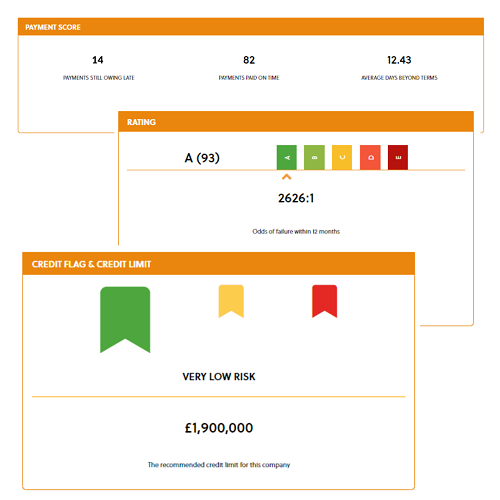 Create an account in seconds to
access your
FREE company credit report!
Why Do You Need Your Company Credit Score?
Our company credit reports are one of the most predictive within the industry and predicts up to 70% of UK failures up to 12 months prior to insolvency.
Understanding the likelihood of your customers paying on time is critical for protecting your cashflow.

A company credit report allows you to identify how much of a credit risk your customers pose, gain insight to their payment history, mitigate the risk of late payments, avoid bad debt & get a steer on what credit limit to offer.
We include information from Companies House and The Gazette as well as unique data insights to give a complete picture of your customers financials.

Our data insights identifies financial losses suffered by your customers as a result of their own clients going into liquidation or administration.
There are a multitude of factors impacting company credit reports including late payments, defaults, CCJs, lines of credit applied for recently and any new lines of credit opened.
Creditsafe is the world's most used provider of online business credit reports. Data from Creditsafe can help businesses predict almost 70% of all insolvencies up to 12 months in advance.

Credit information provided by Check-it is powered by Creditsafe so you are always making informed credit decisions with the most reliable credit data in the world.
Our company credit reports include company ownership details, credit score and rating provided by Creditsafe, recent payment behaviour, financial filings and any events you should be aware of concerning your customer.
Company credit scores and limits are never fixed, they change depending on various different events. You should at a minimum be credit checking every new customer and all existing customers each time they place a new order.

All company credit reports provided by Check-it are automatically monitored for any changes for 12 months. This means you'll be notified as soon as anything changes without the need for you to request a new credit report.