Partnership News – Graydon partners with Know-it
Graydon, Europe's leading provider of business data and insight, and Know-it, a new cloud-based credit management platform, have announced a partnership. They will be joining forces to automate the credit control process of SMEs.

SMEs across the UK are chasing a combined £61 billion in late payment. Know-it, founded by Lynne Darcey Quigley, who has successfully run UK leading commercial debt recovery company Darcey Quigley & Co for over 14 years, have just launched their platform, offering SMEs the ability to mitigate credit risk, increase cashflow and reduce debtor days. Know-it allows users to run business credit checks, monitor changes, automate payment chasing and collect overdue unpaid invoices, all in one place.

The all-in-one credit management tool relies on Graydon intelligence for their automated credit check service called 'Check-it'. Check-it provides business credit reports and monitoring for current and prospective customers. With real-time data from Graydon at their fingertips, Know-it customers can streamline their credit control process.


"With our latest technology and valuable data and insights, we are happy to help Know-it giving their customers piece of mind. This partnership enables them to make better credit decisions and detect signs of fraud." Craig Evans, UK Country Director, Graydon

"We are very pleased with Graydon as a partner. By offering our customers real-time data from reliable sources, we can empower them to make faster, more-accurate decisions. In turn, this will minimise the risks they face. Although interruptions, delays, and mistakes are an inevitability in the word of business, knowing who your customers and partners are can make a world of difference – particularly when it comes to avoiding late payments which are risking the financial health of so many intrepid British businesses. Boosting cashflow is a national issue for SMEs, and we are determined to give businesses insight into who they do business with." Lynne Darcey Quigley, CEO, Know-it
About Graydon

With nearly 135 years of experience, Graydon is a provider of business information for companies and governments. Graydon collects, analyses and interprets data and provides insight into credit information and risk & compliance. Graydon enables organisations to make the right decisions based on relevant business insights to promote ethical, transparent and responsible trade. Graydon is an innovative business partner that creates predictive scores and delivers high-quality, tailor-made insights, limiting risks and increasing commercial opportunities. Graydon has offices in Amsterdam, Antwerp, London and Cardiff.

About Know-it
Know-it is the cloud-based credit management platform with a difference. The platform streamlines the credit control process so you can credit check and monitor, chase for payment, collect overdue unpaid invoices, and more all from one place.
We partner with leading credit agencies and accountancy software such as Companies House, The Gazette, Unsecured Creditors, Sage, Xero, QuickBooks, and FreeAgent. These partners provide us with essential real-time credit information that will help your business to avoid fraud, upload your sales and purchase ledger, and get credit information on the companies that you do business with. In turn, Know-it provides you with a place that brings it all together.
Know-it was founded in 2019 by Lynne Darcey Quigley, who has worked within the debt recovery industry for over 25 years and is also the founder of commercial debt recovery company, Darcey Quigley & Co. While Know-it works in partnership with Darcey Quigley & Co, Know-it is a standalone company, which works strictly on a B2B basis and does not offer services at consumer level.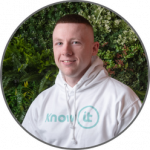 Declan is our content writer here at Know-it!
He is committed to educating readers on the importance of credit control and how technology can help streamline processes for SMEs whilst providing actionable help on how businesses can mitigate credit risk, reduce debtor days and boost their cashflow.
Connect with me on LinkedIn!