Reducing Debtor Days To Maximise Cashflow
Reducing your debtor days is fundamental to maximising your cashflow!
Since you're here reading this article we suspect you're having issues with not being paid on time.
You're not alone. Late payments are crippling businesses all over the UK with 52% of businesses experiencing late payment, and 25% reporting increased instances of late payment in 2022.
Accountancy software company Xero recently published a report showing the average time taken for small businesses to be paid rose by 1.4 days to 31.3 days and the average late payment time hit 8.8 days, up by 1.5 days.
Businesses don't have it easy at the moment. Inflation is still high, interest rates continue to rise and company insolvencies continue to soar.
This is why it's crucial that businesses get a firm grip of their cashflow, and one of the most effective ways to maximise your cashflow is by reducing your debtor days.
What are debtor days?
Debtor days, or as some call days sales outstanding (DSO), is a measure of how long it takes for a company to collect payment from its customers.
High debtor days figures suggest that a business takes too long to collect payment.
Ensuring you're paid quickly will bring a welcome boost to your cashflow and make it easier to forecast for the future.
Whilst sometimes it might not feel like it, the good news is there are things you can control that will significantly reduce your debtor days!
Steps you can take today to reduce your debtor days
Set clear payment terms
Ensure that your customers are aware of your payment terms upfront, and make sure that they are clear and easy to understand.
Typical payment terms are usually 30 days and must be included on your invoice.
Did you know you can legally charge late payment interest, compensation and debt recovery costs on your overdue invoices?
Stating on your invoice that failure to pay within the credit terms may result in additional charges will give your customers an extra incentive to pay you quicker.
Monitor your accounts receivable
Your accounts receivable is your guide to understanding when each of your invoices are due and the amounts you're owed.
Once you have a handle on this you can set out a plan for chasing what you're owed in the event that your payment due date passes with no payment being made.
Having a series of late payment chasers ready to send until payment is made is so important.
We'd recommend sending a late payment chaser:
24 hours after the due date.
7 days after the due date.
14 days after the due date.
30 days after the due date, this chaser being a final demand warning that if payment is not made you'll have no choice but to get a commercial debt recovery partner involved.
Know-it makes the process of chasing payments simple by automating the complete process!
Sync your accounts package and Know-it will automatically send payment reminders and chasers using a fully customisable schedule.
Plus, we have fully customisable templates available ready to send!
Once you've integrated your accounts package, Know-it will clearly show all of your aged debtors so you can take action quickly to ensure payment.
Improve your credit control process
Credit control is one of the solid foundations your business should be built on, however it's often overlooked.
Many businesses don't realise the importance of credit control until they encounter cashflow problems stemming from not being paid on time.
And sometimes it's too late, particularly if their customer goes insolvent. Then the chances of recovering what is owed are extremely slim.
Here's what you should be doing as of now to improve your credit control process:
Credit check each of your customers whenever they place a new order
Running a business credit check is so important if you want to make more informed credit decisions.
You'll see a business' credit score and rating, a suggested credit limit and their previous track record of making payments on time as well as key financial figures and any CCJs.
Business credit scores, credit ratings and credit limits are never fixed, they do change. This is why you should credit check your customers, even existing ones, whenever a new order is placed.
Check out our complete guide to reading a business credit report!
Know-it gives you a free business credit report when you sign-up to a free account.
Have a plan in place for recovering your overdue accounts
In some cases you might feel a bit stuck if your payment chasers fall on deaf ears and you're ignored.
In these cases having a back-up plan for recovering what you're owed is needed!
Getting in touch with a commercial debt recovery partner may be your only option, instead of writing the debt off.
We've partnered with UK leading commercial debt recovery specialists Darcey Quigley & Co to offer a seamless debt recovery solution in-platform!
Why we've partnered with Darcey Quigley & Co
16 years' experience recovering debts from all over the world.
5 Star Trustpilot rating.
No win, no fee.
Cases actioned within 1 hour with 48 hour turnaround.
93% success rate recovering overdue invoices.
Fees starting from just 3%.
They'll strive to recover late payment interest and compensation on your behalf.
Offer multiple payment options
Make it easy and be flexible with the ways businesses can pay you.
Examples include offering online payments, credit card payments, bank transfer and direct debit.
Communication
Clearly communicating with your customers will go a long way, and not just for reducing your debtor days!
Good communication will ensure any queries or disputes are addressed quickly and won't hold up payment being made.
Automate your credit control to mitigate credit risk, reduce debtor days and boost cashflow!
Know-it is the all-in-one credit management platform that automates the complete credit control process.
Credit check and monitor the companies you do business with, automatically send payment reminders and chasers, collect overdue invoices and get quotes for credit insurance and invoice finance, all in one place!
Sign up for free and be a Know-it-all!
See the full platform in action!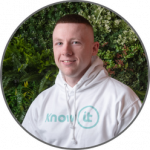 Declan is our content writer here at Know-it!
He is committed to educating readers on the importance of credit control and how technology can help streamline processes for SMEs whilst providing actionable help on how businesses can mitigate credit risk, reduce debtor days and boost their cashflow.
Connect with me on LinkedIn!