Know-it announces Phil Hobden as Head of Strategy and Growth to lead the business growth strategy
KNOW-it, the all-in-one credit management solution, has announced the appointment of Phil Hobden as its Head of Strategy and Growth.
As an expert in the fintech field and a well-known name within the UK accounting industry, Phil brings over 15 years of experience, strategic vision, and passion for business growth to the team at Know-it. His experience in leadership, empowering accountants and SMBs will accelerate Know-it's growth opportunities.
The fintech industry, start-ups and the accountech space are familiar to Phil's leadership experience. He has spent years leading and building sales teams, defining go to market strategy and growing business success.
The mission of Know-it is to expand its services globally and assist SMEs worldwide in realising the importance of automating the credit control process.
CEO and Founder of Know-it, Lynne Darcey Quigley, comments on the announcement: "With a rich background in fintech, Phil holds a strategic role which will guide Know-it's strategic direction, global ambition and collaborations which will drive growth and impact in the sector" "We are super excited to have Phil join us, working with Accountants and their clients is very important and I believe Phil is the person to drive this relationship".
Phil Hobden commented: "As a company with a strong existing leadership and ambition, Know-it offered the opportunity for me to work in a booming fintech scene with a great product and the aspiration for it to be the leading light in the industry."
"Through partnering with accountants, bookkeepers, and advisors, I plan to build on Know-its ground-breaking work so far into the advisor led space, ensuring that we make a lot of noise in the process. Simply put EVERY SME should be using Know-it and whilst there are other software's in the market there that touches on what we do, no one has yet nailed that end-to-end piece like we have."
This article was published in: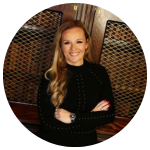 Lynne is the Founder and CEO of Know-it!
She is a passionate, driven and forward-thinking entrepreneur determined to help resolve the late payment crisis gripping SMEs.
Having worked within the credit management industry for over 27 years and ran UK leading commercial debt recovery specialists Darcey Quigley & Co for over 16 years, Know-it was devleoped to make credit control more accessilble for SMEs to help them effectively mitigate credit risk, reduce debtor days and boost cashflow!
Connect with me on LinkedIn!