The Benefits of Offering Trade Credit & How To Mitigate Risk
Offering trade credit can bring a huge boost to your business!
In today's business landscape, companies are constantly seeking ways to attract and retain customers while maintaining a steady cash flow.
One effective strategy that accomplishes both goals is offering trade credit. This is an arrangement where businesses extend credit to their customers, allowing them to purchase goods or services and pay at a later date.
While offering credit presents certain risks, when managed effectively, it can offer numerous benefits for businesses.
In this article, we will explore the advantages of offering trade credit and discuss strategies to mitigate associated risks.
Benefits of Offering Trade Credit
Increased Sales & Customer Loyalty With Trade Credit
Your business can boost sales volume as customers have the flexibility to make purchases without an immediate payment requirement.
This increases the likelihood of closing a sale, particularly for customers who may not have sufficient funds at the time of purchase. Additionally, trade credit can foster customer loyalty, as it demonstrates trust and strengthens the relationship between your business and its customers.
Competitive Advantage
Give your business a competitive edge by differentiating yourself from competitors.
Customers often prefer to work with suppliers who provide flexible payment terms, as it helps them manage their own cash flow.
By offering trade credit when competitors do not, you can attract new customers and retain existing ones, leading to increased market share.
Cashflow Management
Despite the risks, it can help your business maintain a consistent cash flow.
When customers make purchases on credit, the business receives payment at a later date, providing a continuous influx of cash.
This can be particularly beneficial for businesses with seasonal or fluctuating sales, as it ensures a steady stream of revenue throughout the year.
Building Stronger Supplier Relationships
Just as trade credit strengthens customer relationships, it can also enhance relationships with suppliers.
By extending credit to customers, businesses can negotiate better terms and discounts with suppliers, resulting in cost savings and improved margins.
Strong supplier relationships can provide you with a competitive advantage, as you can secure better pricing, faster delivery, and access to new products or services.
Mitigating Associated Risks
Know Your Customer
One of the critical steps in mitigating the risks of trade credit is conducting a thorough business credit check on the companies you do business with.  
This involves evaluating their financial history, credit scores, payment patterns, and industry reputation.
Check-it gives you everything you need to make the most informed credit decisions:
Business credit reports using Creditsafe data.
Live alerts regarding a company from The Gazette and Companies House.
Unsecured Creditor Claims data which lets you know which of your customers have suffered losses as a result of their own customers going into liquidation or administration.
By identifying high-risk customers upfront, you'll be able to make informed decisions about extending credit limits and payment terms, mitigating credit risk!
Regular Monitoring and Credit Reviews
To effectively manage trade credit risks, it is crucial to continuously monitor customers' creditworthiness and review credit limits as necessary.
Regular monitoring allows businesses to identify changes in a customer's financial situation that may impact their ability to make timely payments.
By proactively managing credit limits, businesses can minimize their exposure to potential losses.
Credit monitoring from Check-it ensures you're instantly notified to changes in company credit reports, scores, ratings and limits.
Establishing Clear Credit Policies
The next part of shielding your business from credit risk is establishing clear and well-defined credit policies.
These policies should outline credit limits, payment terms, late payment penalties, and procedures for collections.
By communicating these policies to customers upfront, you can set expectations and reduce the likelihood of payment delays or defaults!
Utilising Trade Credit Insurance
Credit insurance provides protection against non-payment by customers due to administration or insolvency.
By obtaining trade credit insurance, businesses can transfer the risk of customer defaults to the insurance provider, reducing the financial impact of bad debts.
Credit Insure-it allows you to get instant quotes for single invoice trade credit insurance from the Know-it platform!
This approach provides peace of mind and safeguards your company's cash flow.
Find out more about how trade credit insurance works in our recent blog post!
Conclusion
While trade credit carries inherent risks, the benefits it offers, such as increased sales, customer loyalty, and improved cash flow, make it a valuable strategy for businesses.
If your business is to mitigate the risks posed by offering trade credit, you must be proactive in following a robust credit control process.
Know-it makes this easy by automating all of your credit management!
Credit check and monitor companies you do business with, automatically send payment reminders and chasers, collect overdue invoices, access trade credit insurance and invoice finance, and more, all in one place!
What are you waiting for?
Be a Know-it-all and get started for free now!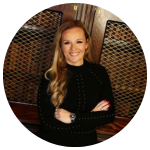 Lynne is the Founder and CEO of Know-it!
She is a passionate, driven and forward-thinking entrepreneur determined to help resolve the late payment crisis gripping SMEs.
Having worked within the credit management industry for over 27 years and ran UK leading commercial debt recovery specialists Darcey Quigley & Co for over 16 years, Know-it was devleoped to make credit control more accessilble for SMEs to help them effectively mitigate credit risk, reduce debtor days and boost cashflow!
Connect with me on LinkedIn!